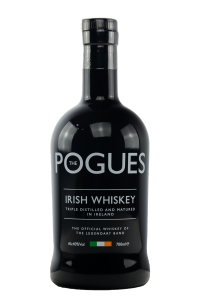 The House of Whiskies News #1

The Pogues Irish Whiskey im neuen Design!

Inspiriert und entwickelt in Zusammenarbeit mit der irischen Folk-Punk-Band THE POGUES.
Dieser Blend enthält einen Anteil von 50 % Malz und ist damit einer der irischen Blends mit dem größten Malzanteil. Angelehnt an den Charakter und das Trinkverhalten der irischen Band kommt dieser Whiskey zu Beginn schön würzig und geht anschließend in eine süße Malzigkeit mit Toffee- und Vanille-Noten über. Das Finish ist mittellang und der Whiskey insgesamt schön süffig. Der Geschmack des Whiskeys wurde mit der Band zusammen entwickelt und sowohl Brennerei als auch die Band haben einen Anteil von 50 % an diesem Produkt!
Uns gefällt das neue Design des Iren!