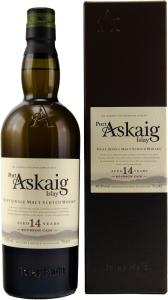 Die Marke Port Askaig umfasst eine Auswahl an Islay Single Malt Scotch Abfüllungen, bei deren Herkunft nur die Region, jedoch nicht die Brennerei bekannt ist.  Bei dieser Abfüllung ist nur, dass dieser Whisky aus einer nord-östlich gelegen Islay-Brennerei kommt, die sonst eher für ihre ungetorften Abfüllungen bekannt ist.
Diese limitierte 14-jährige Abfüllung reifte in 11 First Fill Bourbon Barrels und hat eine tolle Balance aus kräftigem Rauch, Süße und Würze.
Tasting Notes des Herstellers:
NOSE
Stewed fruits and barbecue coal with sea spray and coastal rocks. Sweet smoke dissipates as core flavours of fresh citrus and salted caramel come to the fore combining classic Islay flavours with refreshing fruity notes.
PALATE
Burnt honeycomb and baked raisins infused with five-spice and peat smoke. Candied fruits and sherbet lemon build as an underlying earthy peat brings together a superbly rich and juicy mouthfeel, with creme­brfilee-like notes and a delicious peat-infused caramel layer.
FINISH
Long and heavy with maple-cured bacon and liqueur-soaked sultanas. A beautifully fresh and peaty finish.